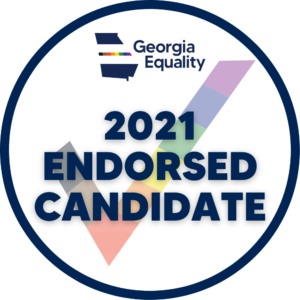 October 8, 2021 — The Board of Directors of Georgia Equality, the state's largest LGBTQ advocacy organization, released its list of endorsed candidates for the upcoming municipal elections happening on November 2, 2021
"During municipal elections, voters may tend to be less engaged than during higher profile years, but these races couldn't be any more important to our work,"  said Jeff Graham, executive director of Georgia Equality. "Right now, thirteen Georgia cities and counties protect LGBTQ people from discrimination and this year's endorsed candidates will help grow that number when they are elected. We're particularly focused on the City of Tucker, where we hope to help elect Robin Biro for Mayor and Imani Barnes and Alexis Weaver to City Council– to shift the politics so that Tucker can join the growing list of municipalities in Georgia to protect LGBTQ folks and others from discrimination."
"Our focus as an organization continues to be the advancement of laws and policies that level the playing field for LGBTQ Georgians and LGBTQ folks that visit our state," said Kenyatta Mitchell, chair of the Georgia Equality Board of Directors. "These endorsements reflect the critical need to win this fight at the local level–where so many of the issues important to LGBTQ people are governed. Perhaps the best example is the continued struggles we see with the City of Atlanta's administration of the Housing Opportunity for People living with AIDS (HOPWA) program. There is a great deal of opportunity for leadership on this matter and we look forward to the candidates continuing to outline the steps they would take to ensure people living with HIV in metro Atlanta get access to housing."
---
In a period in which many people seeking elected office are supportive of the LGBTQ community, the Georgia Equality Board of Directors will issue an endorsement for a candidate who we feel is best placed to advance our policy agenda.  The lack of an endorsement should not necessarily be viewed as a negative reflection of a particular candidate's views on LGBTQ issues in general.
All Georgians should visit the Secretary of State's My Voter Page to register to vote, double-check that your voter registration is correct, and view absentee voting information. 
Key Election Dates:
Advance In-Person (Early) Voting: October 12-29, 2021
State-wide Saturday voting: October 23, 2021
Election Day: November 2, 2021
---
Additional Voter Information from our community partners:
Victory Fund — Georgia Endorsed Candidates
---
2021 General Election Endorsed Candidates
City of Atlanta
City Council Post 2, at-large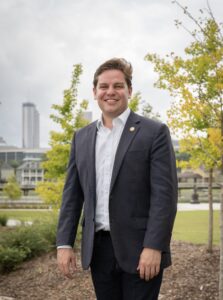 Matt Westmoreland (i)
"I was born and raised here, am a proud product of our city's public school system, and after college spent four years teaching History at Carver Early College High School in Southeast Atlanta. I hope that people vote for me because of my proven pro-equality track record, both as a member of the City Council and the Board of. I'm working hard to ensure we have a diverse, equitable, and inclusive city for all who call it home."
To learn more about Matt's campaign, visit https://www.mattwestmoreland.com
---
City Council District 5

Liliana Bakhtiari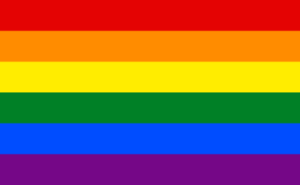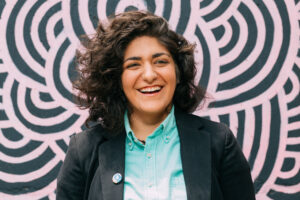 "LGBTQIA+ voters should support my candidacy because I have the lived experience to truly shape progressive LGBTQ policy at every level. I have been disowned. I have been homeless, queer, and young, struggling to survive in the city of Atlanta. I have faced discrimination in the workplace based on my gender, sexuality, and race. But I have also learned that these experiences make me better, and serve as a guide for me in my advocacy work. Through my time with Planned Parenthood, Georgia Equality, Victory Fund, and other human rights organizations I have seen whateffective policy can do to protect a community. It is part of why I decided to run – to shape legislation that can help thousands of people rather than just helping one at a time. Thanks to my many mentors in the LGBTQIA+ advocacy space, I am prepared to be the champion that we needat Atlanta City Hall. As our next City Councilmember, I will commit to being the LGBTQIA+nchampion that Atlanta needs. I will fight for transparency around our HOPWA legislation and keep the promise of holding the mayor's office accountable to ensure that funding is released and allocated properly. I will support the partners already doing the work to champion trans housing solutions and the preservation of Atlanta's queer history. I will fight for expanded funding for HIV/AIDS and sex education programs in our city, and fight to end the stigma so that we can all be safer. I will champion inclusive legislation at the city level, and will leverage my relationships with county and state officials to be sure that our community is protected at every level. But most importantly, I will always listen to the community leaders, and carry their policies forward so that we can keep building on the foundations that they have worked so hard to lay here in Atlanta, and so that Atlanta can truly be the gay mecca of the South in how it cares for our LGBTQIA+ neighbors."
To learn more about Liliana's campaign, visit https://www.lilianaforatlanta.com
---
City Council District 6
Alex Wan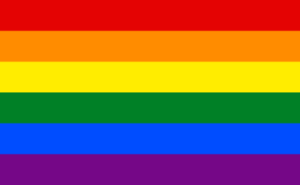 "I am proud to be a gay man in Atlanta, but that alone is not reason enough to expect LGBTQ community support.

First and foremost, LGBTQ voters should support my candidacy because I am the most qualified candidate for this position. The unique combination of having run a small business for over 20 years, my broad, long-time community involvement, my history of having represented Atlanta voters, and my track record of building consensus and getting things done will enable me to continue being an engaged and effective representative for Atlanta City Council District 6.

LGBTQ voters should also support me because of my ongoing commitment to the Atlanta LGBTQ community, demonstrated by my active involvement in our community since the early 1990's when I came out. I have worked closely with such organizations as Georgia Equality and the Human Rights Campaign, and my professional resume includes serving in a full-time position with an HIV/AIDS service organization, Jerusalem House. Additionally, I founded a non-profit group, For the Kid in All of Us, to bring together the LGBTQ community to collect toys and school supplies for Georgia's children in need, showing the greater Atlanta area that members of the LGBTQ community are willing to address a problem that affects the city at large."
To learn more about Alex's campaign, visit https://www.alexwanforatlanta.com
---
City Council District 9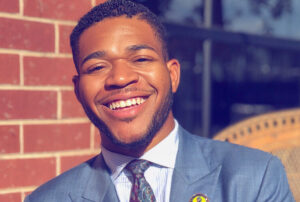 Devin Barrington-Ward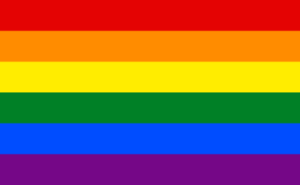 "Because I have a proven track record of advocating for the end of the HIV epidemic in the city of Atlanta. Through partnerships with Georgia Equality and State Representative Park Cannon, I will be able to help secure a new funding allocation within the city budget for HIV prevention and treatment in 2018. This was a historic first and built on my legislative advocacy at the State Capitol which included bipartisan support for a state sanctioned PrEP Pilot Drug Assistance Program and an administrative ruling within the Department of Public Health to ensure that HIV testing programs supported by the state government provide information about the benefits of PrEP as means of preventing HIV. Additionally, I was proud to join other advocates in the city to amplify the mismanagement of the HOPWA program.

All of these accomplish should illustrate to LGBTQ voters that they have true champion at City Hall for the issues that impact their communities the most."
To learn more about Devin's campaign, visit DevinforAtlanta.com
---
City Council District 10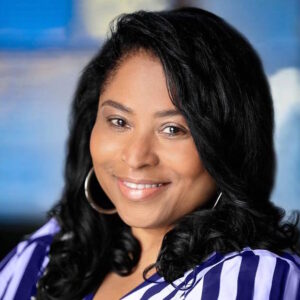 Andrea Boone (i)
"I believe in the right of all people to live free of hate, discrimination, and harassment. I support marriage equality, LGBTQ parenting rights, protections for transgender individuals and LGBTQ youth. I believe deeply in protecting and promoting rights for the LGBTQ community."
---
City Council District 11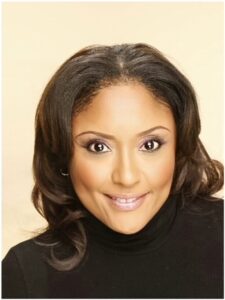 Marci Overstreet (i)
"I'm consistently supportive and engaging with all communities, especially the LGBTQ+ community that has experienced more than it's fair share of unacceptable practices."
To learn more about Marci's campaign, visit https://voteoverstreet.com
---
City Council District 12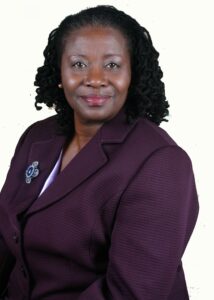 Joyce Sheperd (i)
"I am and advocate and fighter for all.  I have members of my family who are gay and I advocate for them always."
To learn more about Joyce's campaign, visit https://www.joycesheperd.com
---
Board of Education District 4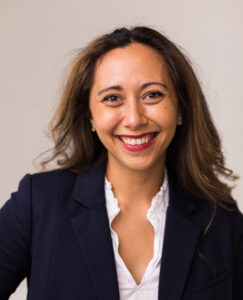 Mikayla Arciaga
"My entire career has been centered around creating a safe space where students, families, and teachers feel seen, welcomed and heard. I want to use the responsibility of this seat to ensure that we are reaching out to those families who may have been overlooked or excluded and that includes LGBTQ families."
To learn more about Mikayla's campaign, visit https://www.arciaga4aps.com
---
Board of Education, District 7 at-large (dual endorsement)
Royce Mann
"As a lifelong advocate for LGBTQIA+ rights and the proud son of LGBTQIA+ parents, I have built a track record as an unwavering voice for justice, fairness, and equity. I have been involved in numerous efforts to support LGBTQIA+ youth, including working with Lost & Found Youth, Sojourn, and the True Colors Conference. I have also worked with GLAAD for multiple years, speaking and performing at events around the country, including the GLAAD Gala at the Atlanta History Center just a few years ago. For these efforts and more, I was recognized in 2019 as the youngest ever Grand Marshal of Atlanta Pride Parade. I believe my work demonstrates my commitment to the LGBTQIA+ community, and I look forward to continuing to show that commitment through my work as the next Seat 7 At-Large member on the Atlanta Board of Education."
To learn more about Royce's campaign, visit https://www.royceforatlanta.com
Board of Education, District 7 at-large (dual endorsement)
Stephen Spring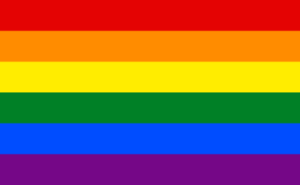 "I not only can identify. I have done the work and I have your back 100%.  Stephen Spring has the experience, education, and tough-skinned political stamina to interrupt institutions and enact meaningful policy for students, their families, and our teachers and school staff."
To learn more about Stephen's campaign, visit https://springboard2021.com
---
Board of Education District 8 at Large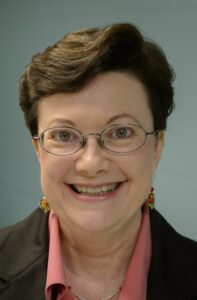 Cynthia Briscoe Brown (i)
"I have a 35-year record of advocacy for all our kids, specifically embracing those who (like my own child) are seeking or have found their identity as LGBTQIA+. From the strategic and policy-making level to addressing the concerns of individual students and employees, I have advocated for meeting the academic, social, emotional, and physical needs of every student, especially taking into account the unique intersectionalities of each one. In this time of uncertainty and change, my depth and breadth of knowledge and experience are essential as we reckon with our past, acknowledge the impact of the past on the present, and use that knowledge to propel us into a better future."
To learn more about Cynthia's campaign, visit https://www.cynthiabriscoebrown.com
---
Board of Education District 9 at Large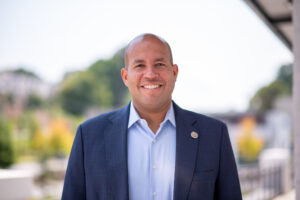 Jason Esteves (i)
"Because I have a record of supporting a strong public school system that is welcoming and safe for all students and provides all students with the opportunities and resources they need to thrive. I am also and ally both inside the district and the community. I will continue to advocate on behalf of the LGBTQ community in everything I do."
To learn more about Jason's campaign, visit https://www.jasonesteves.com
Additional City of Atlanta Candidate Assessments are listed at the bottom of this page.
---
City of Brookhaven
City Council District 2
John Park (i)
"I work every day to inspire and be inspired by those I serve – whether it be at my job in public health or as a Brookhaven Councilmember. Since I was first elected to City Council in 2014, I've been leading through listening and engaging with neighbors to hold steadfast to our vision of Brookhaven as a safe haven of greenspaces and a vibrant, inclusive community."
To learn more about John's campaign, visit https://electpark.com
---
City Council District 4
John Funny 
"Voters from the LGBTQ community should support my candidacy and have confidence in me as their future Councilman because I have a solid record of working with others to improve diversity and inclusion in our community of Brookhaven. I am the candidate in the race who will work with all people, regardless of race, color, sex, sexual orientation, religion or any other qualities. I am committed to creating an environment in which all individuals are treated with respect and dignity. Once elected, I will ensure that Brookhaven is a government that continues to promote equal employment opportunities and prohibits unlawful discriminatory practices, including harassment, explicit bias, and prejudice."
To learn more about John's campaign, visit https://electjohnfunny.com
---
City of Clarkston
City Council
YT Bell
"My record as a previous Councilmember and community leader reflect an unwavering support of and advocacy for the LGBTQ community. Throughout my career in public service, I have sought to reassure residents that they are welcome in Clarkston with personal support and progressive legislation. I am consistently working to make the City of Clarkston inclusive.. Clarkston is the most ethnically diverse square mile in America, known for its acceptance of immigrants and refugees, and this acceptance extends to all communities and constituencies that face hate and prejudice. I do not tolerate discrimination of any kind, directed towards anyone, because I know that inclusivity, acceptance, and equity are vital to creating a more connected and thriving city."
To learn more about YT's campaign, visit https://www.bellforclarkston.com
---
City Council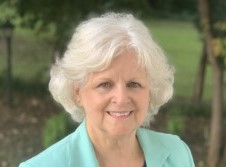 Susan Hood
"I believe all residents should have equal opportunity, equal access to government and the services it provides, be treated equally before the law, and have their voices heard."
To learn more about Susan's campaign, visit hood4clarkston.com
---
City Council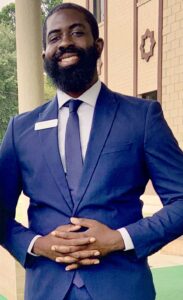 Larry McClam
"Every citizen in the City or Clarkston, and nationwide, deserves to be treated with equality, fairness and safety. This includes individuals in the LGBTQ community. LGBTQ voters should support my candidacy because, if elected to City Council, I will work hard to ensure equality, fairness and safety in employment, housing and crime prevention are maintained."
To learn more about Larry's campaign, visit https://www.voteformcclam.com
---
City of Decatur
City Council District 1 Post A
Kelly Walsh (i)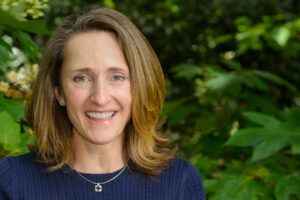 "LGBTQ voters should support my bid for re-election I have demonstrated a deep desire and committment to Decatur to be a diverse, inclusive, and equity oriented place to live through my support of LGBTQ rights and safety, support  for diverse housing for diverse incomes through a myriad of policies and programs, as well as my responsive leadership style in which I am known for being available and open to any and all who want to discuss issues and make headway on them."
To learn more about Kelly's campaign, visit https://votekellywalsh.com/
---
City of Doraville
City Council District 2
Chris Henshaw
"I work really hard, in my personal life, and as a city council member to be fair and equitable to all members of society. All residents in our city deserve a voice, along with respect, patience and understanding. The past two years working with Joseph, Andy, and Stephe has helped give me greater insight into some of the challenges faced by LGBTQ+ persons. It has helped open my eyes to the various forms of discrimination that they face on a regular basis. If re-elected, I look forward to four years of continuing to work towards equity and equality for our city's residents and businesses."
To learn more about Chris' campaign, visit http://www.chrisfordoraville.com
---
City of Hapeville
City Council, At Large
Brett Reichert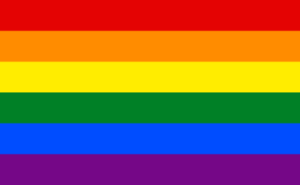 "As someone who identifies as gay, I am very sensitive to the issues affecting the larger LGBTQAI community. This is a nonpartisan role, and I consider myself to be a good listener and coalition builder who uses common sense to improve and resolve issuesaffecting local citizens, businessess and visitors. As an airport adjacent municipality, Hapeville is the front door of Atlanta. My goal is to help the city work in tandem with all our adjacent communities and entities while preserve what is so special about Hapeville: charm, history, community, walkability and resilience."
To learn more about Brett's campaign, visit https://brett4council.weebly.com
---
City of Tucker
Mayor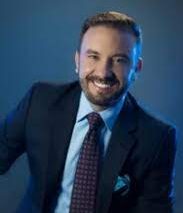 Robin Biro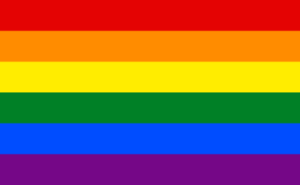 "I have fought for LGBTQ rights, equality, and inclusiveness for all of my adult life, since coming out at the age of 16, so for 30 years now.  I pledge to get the NDO on the council agenda for consideration within my first 60 days as Mayor."
To learn more about Robin's campaign, visit https://robinfortucker.com
---
City Council District 2, Post 1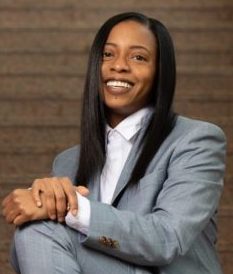 Imani Barnes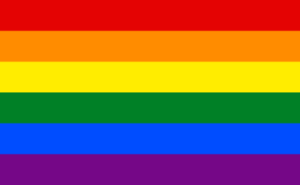 "I should be supported because I am a part of the LGBTQ+ family and will be the first person on Tucker's City Council to represesnt us. I would also fight to pass the NDO for equity for all."
To learn more about Imani's campaign, visit https://joinarmswithbarnes.com
---
City Council, District 3 Post 1
Alexis Weaver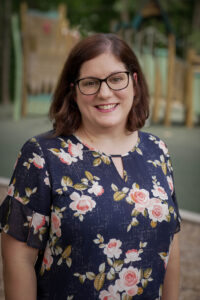 Inclusion is a central priority of my campaign. I will introduce and champion a Non-Discrimination Ordinance that protects LGBTQ citizens. Discrimination has no place in our city. For two years, our local officials have refused to discuss publicly the proposed ordinance. Throughout this campaign, my opponent has offered a myriad of ill-informed excuses as he seeks this open seat to continue the status-quo of inaction. I won't be silent and I will work hard to ensure Tucker is a safe and welcoming city. I am committed to amplifying the voices of Tucker's LGBTQ residents to ensure their representation and participation in decision-making.
To learn more about Alexis' campaign, visit www.alexis4tucker.com 
---
City of Atlanta
Additional Candidates Assessed as Satisfactory
Due to the large number of candidates seeking some offices in the City of Atlanta, the board has chosen to assess multiple candidates as 'Satisfactory' based on their responses to our survey, with a plan to reassess that decision ahead of the inevitable runoff election. Candidates not listed as 'Satisfactory' either did not submit a survey, or the responses they submitted were found to be insufficient by the board.
Mayor of Atlanta
Antonio Brown: Satisfactory
Andre Dickens: Satisfactory
Nolan English: Satisfactory
Sharon Gay: Satisfactory
Rebecca King: Satisfactory
Felicia Moore: Satisfactory
Kasim Reed: Satisfactory
Glenn Wrightson: Satisfactory
Antonio Brown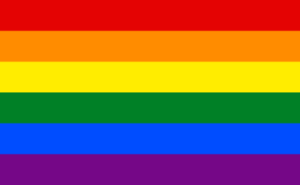 Even before coming on to Council, I worked my entire adult life to forward the rights of the LGBTQ community, prior to moving to Atlanta and after… and have continued while serving. I will continue as Mayor of the City of Atlanta.
Andre Dickens
The issues of equity and inclusion have been core principles of mine throughout my life. My faith teaches me that every one of us is equal and deserves our love and compassion. That applies across the board regardless of race, religion, ethnicity, sexual orientation, or gender identity. Every one of us is equal and deserves the same rights and opportunities. I've strived to uphold this commitment to equality and inclusion through my work at Georgia Tech, where I was the Assistant Director of Outreach Initiatives for the Office of Institute Diversity, to my work as a founding board member of the Center for Civil and Human Rights, as well as my work on City Council.
I have been fortunate to build relationships with many close supporters, advisors and friends who are members of the LGBTQ community. By sharing their stories, I have witnessed first-hand so many parallels between the experiences of the African American community and the LGBTQ community. I was an early supporter of the LGBTQ Institute at The Center for Civil and Human Rights, which teaches us that the story of human and civil rights would not be complete without a discussion of the ongoing struggle for LGBTQ rights. As mayor, I will work to build bridges between these communities and others so that we can all thrive and live up to evolving standards being set in the birthplace of the Civil Rights Movement.
Nolan English
I am a friend and a servant to all.
Sharon Gay
Our vibrant LGBTQ population is part of the rich fabric of Atlanta and part of what makes our City special. Its participation in our government has helped us to function better.  Having lived and worked intown and downtown for decades, I am quite aware and respect the value of the LGBTQ community to our city.
Rebecca King
more info coming soon
Felicia Moore
I have always been a trusted ally to and advocate for the community. As our next mayor, I will have an LGBTQ Advisory Council inside the Mayor's office, and I will actually listen to and engage with them to develop new, stronger policies that advance equality and non-discrimination.
Kasim Reed
Former Mayor Reed has always believed in tolerance and acceptance, regardless of a person's race, ethnicity, gender, religion, sexual orientation or gender identity. That creed has been a guiding force for him throughout his life, as reflected by his actions and votes as a lifelong Democrat and elected official in the state of Georgia for more than 17 years. While in office, Mayor Reed's Administration received five consecutive perfect scores on the Human Rights Campaign Municipal Equality Index and appointed the first-ever LGBTQ leader of the Atlanta Police Department, Chief Erika Shields. Additionally, Mayor Reed served as Honorary Co-Chair of the Mayors for Freedom to Marry campaign, authorized the permanent installation of rainbow-themed artwork on crosswalks at the intersection of 10th and Piedmont where the LGBTQ community has gathered for both celebratory events and vigils.
Former Mayor Reed also publicly opposed the so-called religious freedom legislation that would have allowed religious discrimination against LGBTQ individuals in Georgia. Reed also supported President Obama's executive action to ensure transgender women and men have access to their preferred restroom in City Hall and all other City facilities. Additionally, under the Reed Administration, the City of Atlanta maintained transgender-inclusive health insurance coverage for City employees. He also amended the Atlanta Code to include gender identity in all non-discrimination provisions, and in 2013, Mayor Reed appointed Atlanta Law Department Chief Counsel Robin Joy Shahar as Mayoral Advisor on LGBTQ Issues.
Glenn Wrightson
Because I believe :   to not judge least ye be judged  –  and I am experienced enough to know what is important is what resides in one's soul and thoughts about how other people have the same authority to breath and speak and conduct their affairs as do I.
---
City Council President
Natalyn Archibong: Satisfactory
Courtney English: Satisfactory
Doug Shipman: Satisfactory
Natalyn Archibong
Some of my strongest and most consistent supporters over the past 20 years have been members of the LGBTQ community.  I have voted in favor of every legislative item that protects or affirms the rights of LGBTQ citizens.
Courtney English
I am working to build an Atlanta that works for all of our neighbors. No matter their race, socio-economic status, religion or who they love, all must share in the opportunities Atlanta has to offer. We must create a city that cherishes diversity and where all are welcome and able to build brighter futures for themselves and their families. I have a strong track record of success on the school board, I have stood against hate, and homophobia and have worked to make APS an inclusive organization for all. This is the same kind of effective leadership I will bring to the city-council when elected.
Doug Shipman
I have shown that I will deep knowledge and committment to my role in furthing and consistently including LGBTQ+ people and issues across the entire spectrum of my work. My record includes the inclusion of LGBTQ+ stories and programs from the very beginning of building the National Center for Civil and Human Rights to foundign the LGBTQ+ institute at NCCHR to my work to support and diversify LGBTQ+ artist and arts at Woodruff Arts and beyond to my family's longtime support of the HRC, Georgia Equality, and HIV/AIDS related organizations and intiatives.
---
City Council Post 1, at-large
Michael Julian Bond (i): Satisfactory
Alfred "Shivy" Brooks: Satisfactory
Brandon Goldberg: Satisfactory
Todd Gray: Satisfactory
Jereme Sharpe: Satisfactory
Michael Julian Bond (i): 
I have been an advocate of the LGBTQ community for my entire career. There is no member of the City Council previously or currently serving that has passed more legislation to advance the cause of LGBT equality than myself. I was the author of the City's first domestic partnership policy in 1997, and the first elected official in the State to host the AID's quilt, I led the effort to issue an official apology from the city for the raid on the Eagle nightclub, and co-authored with then Councilwoman Cathy Woolard an amendment to our city charter that defined LGBTQ as a protected class in the City of Atlanta.
Alfred "Shivy" Brooks
I believe it is important for Atlanta's LGBTQ community and especially the young LGBTQ members to see a cis gender black man be a firm advocate, ally and coconspirator, fighting to end stigma, normalize inclusivity and partnership, and increase equity.
Brandon Goldberg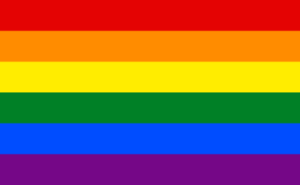 I will run my office the same way I run my campaign: as a community-driven effort that brings together diverse perspectives to explore the challenges facing Atlanta and craft sustainable solutions that have broad buy-in. I am not interested in introducing legislation or fighting for positions that will not see the light of day or success if passed. I am interested in those solutions that large portions of the city will get behind and support. Those kinds of solutions are not easy to craft, but it is the only way to ensure that we can actually move Atlanta forward.
While I am a member of the LGBTQ community and therefore have particular insight into the issues facing our community, I will also be a representative for minority communities without a representative who looks like them. With only so many seats on Council, many ethnic, religious, and other minority communities don't even have a candidate running and will likely not have a member on Council. I am not looking to merely be an ally. I am looking to be a friend and known quantity – someone that a constituent feels comfortable calling and speaking frankly with regarding issues challenging them or items they feel need to be addressed. Too many people feel uncomfortable reaching out to Council for help. My goal is to ensure they can always feel comfortable speaking with me. That's also a two-way street; I will rely on their insight to ensure I know how issues are affecting various communities in Atlanta. That is the only way I can be effective in serving all Atlantans.
Todd Gray
As I have done for my entire career, I will continue to fight for equal access and represntation for all people, here in Atlanta. I will fight to ensure every community member has the seat at the table needed to express issues unique to their community. I cannot speak for the LGBTQ+ community, but I promise to always listen and trust they are experts of their own experiences.
Jereme Sharpe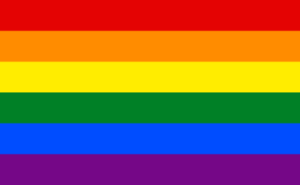 I'm able to create new, better, and different opportunities. My network of family, friends, and colleagues is extremely diverse. This means I'm able to make connections between groups of people that wouldn't traditionally be made, which results in new opportunities being created and spaces/doors being opened that wouldn't normally be opened to the LGBTQ community.
---
City Council Post 3, at-large
Jacki Labat: Satisfactory
Ralph Long III: Satisfactory
Jodi Merriday: Satisfactory
Keisha Waites: Satisfactory
Sherry Williams: Satisfactory
Jacki Labat
I will work to ensure equity for all Atlantans and will fight to break down barriers of discrimination and encourage education, understanding and collaboration that our power collectively is far greater than our divided.
Ralph Long III
As a father, husband, lifelong Atlantan, small business owner and Black man, I have lived the struggle for equality, freedom and the right to exist in peace every day of my life. While there are differences between my lived experiences and some of the experiences of LGBTQ voters, we have in common a desire to live our lives free from barriers, discrimination and hate, whether they are imposed by public agencies, private organizations or individuals. As a member of the Atlanta City Council, I will challenge our City government to make decisions and pass legislation examined through the lens of the LGBTQ community and its needs. If we focus our efforts on uplifting the priorities of people most in need (low-income households, African-Americans, the LGBTQ community, etc.) we will create better public policy outcomes and opportunities for all of Atlanta.
Jodi Merriday
I am a passionate advocate, ally, and accomplice to the LGBTQ (AI+) community. I worked from February of 1998 – March of 1999 at Jerusalem House as a Casemanager and thereafter as a manager. I managed residential living for families with HIV positive caregivers and provided case management, intervention plans, therapy, and training. I also served on the Board of
Jerusalem House. Further, I am an active supporter of HOPWA (Housing Opportunity for People with AIDS) and will make certain that funding is stewarded and distributed.
Keisha Waites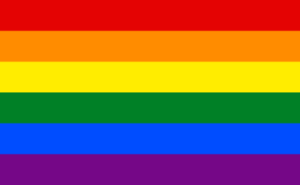 I am the only candidate in the race that has successfully served 3-terms in a legislative capacity. It is my belief given the challenges we are facing are facing citywide, we must have a representative that has the experience and relationship to navigate the current volatile political current.  Secondly, given the adversarial role between the state of Georgia and the City of Atlanta, I have the capacity to serve as an olive branch and conduit to improving relations.
Sherry Williams
I have always supported LGBTQ causes.  I have numerous LGBTQ friends. When my church friends have asked me how I can be a Christian and support LGBTQ causes, I tell them that God made everyone LGBTQ or straight.  I also supported the policy to have LGBTQ officers handle arrests of LGBTQ people.
---
City Council District 1
Nathan Clubb: Satisfactory
Russell Hopson: Satisfactory
Kelly-Jeanne Lee: Satisfactory
Jason Winston: Satisfactory
Nathan Clubb
I've built my campaign team with LGBTQ members at the core. This is no accident; these are my friends and confidantes. My campaign chair is a gay, African-American man. It is by design, that I deliberately choose to surround myself with people whose perspective is different from mine. The first step in building any relationship is listening. I will reach out to District 1's LGBTQ residents and host a listening tour. I won't just be there for them to celebrate Stonewall and Pride; I'll help them with their everyday concerns, including ensuring their employment and housing needs are secure.
Russell Hopson
My empathy, humility, and connection to the human family is always evolving. As the national head of training for The New Leaders Council, I am constantly learning, growing and expandingmy vocabulary, knowledge, and love for all people. I save the greatest measure of my passion and will to advocate for any person or persons who are being discriminated against, disregarded or hated for being who they were meant to be. As a cis-gendered hetero male who is black I have learned to put my intersectionality into perspective and be a greater advocate for others who do not enjoy the societal advantages that I do on some levels. I make space for my human family and I protect them with all of my vigor.
Kelly-Jeanne Lee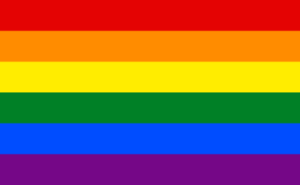 I have broad experience with issues that face LGBTQ citizens in our community.
Jason Winston
more info coming soon
---
City Council District 3
Byron Amos: Satisfactory
Erika Estrada: Satisfactory
Keona Jones: Satisfactory
Elijah Porter: Satisfactory
Byron Amos
I hope to earn the support of the LGBTQ community because I strongly believe that as the cradle of the Civil Rights movement, Atlanta has a moral and civic obligation to upholding human rights for all people – regardless of sexual orientation or identity. If elected, I will collaborate with the Mayor's LGBT Advisory Committee and LGBTQ residents of District 3 to ensure that we create a city where all people feel safe and supported in living openly as gay, lesbian, bisexual, and transgender. I am committed to having ongoing conversations with the LGBTQ community to discuss how we can address the most pressing issues facing their community.
Erika Estrada
LGBTQ Voters should support my candidacy because I am a proven, lifelong ally of the community. My inner circle of support persoanlly, professionally, and for my campaign, all includes members of the LGBTQ community. Their love, support and advice shapes my daily life.
Keona Jones
As a community advocate, I have spent years fighting for equitable distribution of city resources. I have a basic love and respect for humanity. I'm here to represent all District 3 citizens because we're all part of One Atlanta.
Elijah Porter
LGBTQ voters should support my candidacy because the tenants and central values of my platform are centered on community togetherness. As my campaign slogan suggest, "together, we will." Community empowerment and improvement requires buy in and commitment from every single community member. This collectivity requires equity, inclusion. There is no place in our community for discrimination, hatred, bigotry, or structural inequality. I believe LGBTQIA voters should support my candidacy because I am wholly dedicated to creating a better, livable Atlanta. This is my goal not just for the individuals that live at the epi-center but for individuals that also inhabit the margins of society.
---
City Council District 4
Rogelio Arcila: Satisfactory
Larry Carter II: Satisfactory
Jason Dozier: Satisfactory
Kim Scott: Satisfactory
Rogelio Arcila
Our campaign platform is built around providing the marginalized in our communities their needs to ensure that they thrive and survive. This can only be done if we, as a collective, select those amongst us who seek to remove the inequities in our communities against corporate and police power.  The radicalism of Queerness invites us to support my candidacy as I seek to fix the issues at their root standing in solidarity with a myriad of comrades. We must invest in our communities and divest in forms of violence and harm such as policing. For us to provide for our most marginalized in our communities it requires bold and decisive leadership. I am here, as an Indigenous Chicano Socialist seeking to present the bold policies that we need.
Larry Carter II
LGBTQ voters should support my candidacy because I have been doing the work, and I will continue on with a larger platform. I will be the first black gay married man on council. Representation matters. I know the issues and have real world solutions to handle housing for all, expansion of public transit, complete streets, environmental justice and crime justice reform.
Jason Dozier
I believe that District 4 should be welcoming to everyone, regardless of race, class, gender identity, gender expression, or sexual identity. Same sex marriage was recognized as a legal right just six short years ago, and many across the country celebrated the recognition of that right. But I also believe our work is not yet done. Our LGBTQ community members are victimized by discrimination and violence every single day and I wil work to ensure that Atlanta strives to foster a community that uplifts our
LGBTQ community members. Our nation becomes stronger in the midst of great challenges, and many of these challenges continue to exist in our neighborhoods today. Atlanta must continue its commitment towards addressing the needs of our LGBTQ citizens, and I am personally committed to ensuring that that happens. I stand ready to serve as an ally and advocate in the march towards equality and justice for all Atlantans.
Kim Scott
My LGBTQ neighbors should support me because I have a plan to address issues that have plagued Atlanta's District 4 and impact the LGBTQ community. For too long, our neighborhoods have continued to struggle with safety, affordable housing, speeding, flooding, code enforcement and lack of transportation among other issues. I've watched our Downtown, Southwest, and South Atlanta neighborhoods go without the resources and services they need and deserve for nearly 30 years. I am going to work to bring affordable housing, help Atlanta deal with its high rate of evictions and discriminatory practices both in renting and employment and work to ensure our neighbors are safe when they walk, ride and bike the streets of Atlanta.
---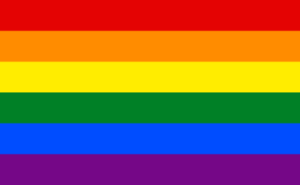 denotes an openly LGBTQ candidate